PROFESSIONAL PRODUCT
Panasonic Toughpad FZ-M1
The Panasonic Toughpad FZ-M1 is built for productivity without compromise. Now powered by Windows 10 Pro and a 6th generation Intel Core m5 vPro processor, the Toughpad FZ-M1 offers even better performance than the previous model.
With a user-replaceable battery, optional bridge battery and/or long-life battery, a new full-sized smartcard/magnetic strip reader option and improved sensitivity for use with heavy gloves, the Toughpad FZ-M1 is the ideal tool for today's mobile workforce. And now, it is even available with a stylish black bezel. The Panasonic Toughpad FZ-M1 is the fully rugged Windows tablet, built to enable mission-critical mobile worker productivity without compromise. Powered by Windows 10 Pro, the Toughpad FZ-M1 features a long life, user-replaceable battery and a daylight-readable, high-sensitivity multi-touch display for use with heavy gloves. With the broadest range of configuration options available in its class, the highly customisable Toughpad FZ-M1 is the ideal tool for today's mobile workforce.
Panasonic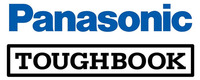 Panasonic Toughbook® rugged laptops and Toughpad® durable tablets are engineered with enterprise-grade security and can withstand drops, spills, dust and grime to perform in the harshest environments. Rugged reliability, low cost of ownership and accolades from reviewers are just a few of the reasons why Panasonic keeps winning over the world's toughest users.
In today's business environment, staying connected is no longer a luxury. It's the new standard for doing business. That's why more mobile professionals are turning to the reliability and world-class wireless performance of Panasonic Toughpad tablets and Toughbook computers that feature embedded Wi-Fi and optional embedded wireless mobile broadband, delivering the "always on" connectivity demanded by the hectic, mobile lifestyles of today's workforce.