PROFESSIONAL PRODUCT
Panasonic Toughpad FZ-G1
The 10.1-inch FZ-G1 pairs the field-tested, fully-rugged chassis of the original with the latest, sixth-generation Intel Core i5 vPro and host of new features, like a glove-sensitive touch screen; a 28-hour, hot-swappable battery; integrated RFID; and much more.
Engineered to withstand the hard knocks, drops and spills of real life on the road, the FZ-G1 is built to operate flawlessly in every environment — from intense heat and sunlight, to pouring rain and freezing temperatures. Running Windows 10, the FZ-G1 integrates seamlessly and securely with enterprise platforms.
The Toughpad FZ-G1 Windows 10 Pro tablet offers a fluid user experience while providing crucial port connectivity and feature-rich options in a compact size. Designed for highly mobile field workers, it's the thinnest and lightest fully rugged 10.1" tablet running Windows 10 Pro 64-Bit. Powered by an Intel Core i5 vPro™ processor with a MIL-STD-810G and IP65 certified design, the Toughpad FZ-G1 Windows 10 tablet leads the way in rugged mobile computing. Add to that an HD daylight-readable 10-point gloved multi touch + waterproof digitizer pen, and it becomes an essential tool for field workers.
Panasonic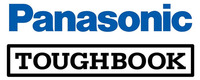 Panasonic Toughbook® rugged laptops and Toughpad® durable tablets are engineered with enterprise-grade security and can withstand drops, spills, dust and grime to perform in the harshest environments. Rugged reliability, low cost of ownership and accolades from reviewers are just a few of the reasons why Panasonic keeps winning over the world's toughest users.
In today's business environment, staying connected is no longer a luxury. It's the new standard for doing business. That's why more mobile professionals are turning to the reliability and world-class wireless performance of Panasonic Toughpad tablets and Toughbook computers that feature embedded Wi-Fi and optional embedded wireless mobile broadband, delivering the "always on" connectivity demanded by the hectic, mobile lifestyles of today's workforce.