PROFESSIONAL PRODUCT
Panasonic Toughbook CF20
The Panasonic Toughbook CF20 is a fully rugged, lightweight laptop that easily detaches to become a 10.1" tablet. And it only takes one hand. The detachable laptop has a magnesium alloy chassis and is also MIL-STD-810G and IP65 certified, so it can take the abuse of most any job site.
The CF20 from Panasonic represents the advancements field computing solutions have taken.
Weighing in at only 3.9 pounds, the CF20 is a 2-in-1 machine suitable for a variety of computing configurations.
It can operate as a conventional laptop computer, a fold-back flip-book computer or a detachable touchscreen tablet.
The clever built-in handle also functions as a kickstand, providing on-the-job flexibility.
And even as the workday gets longer, power won't be a problem. The optional bridge battery allows hot swap battery replacement without disruption. The gloved multi touch display is sunlight-viewable, making this hybrid laptop perfect for rugged outdoor environments. With this detachable laptop tablet at your side, you can handle anything the workday throws at you.
Panasonic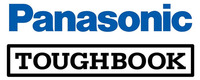 Panasonic Toughbook® rugged laptops and Toughpad® durable tablets are engineered with enterprise-grade security and can withstand drops, spills, dust and grime to perform in the harshest environments. Rugged reliability, low cost of ownership and accolades from reviewers are just a few of the reasons why Panasonic keeps winning over the world's toughest users.
In today's business environment, staying connected is no longer a luxury. It's the new standard for doing business. That's why more mobile professionals are turning to the reliability and world-class wireless performance of Panasonic Toughpad tablets and Toughbook computers that feature embedded Wi-Fi and optional embedded wireless mobile broadband, delivering the "always on" connectivity demanded by the hectic, mobile lifestyles of today's workforce.