PROFESSIONAL PRODUCT
MSA Evolution 6000 Thermal Imaging Camera
The MSA Evolution 6000 is an intrinsically safe infrared camera tool used to aid and improve fire ground safety, locating and to assist in safe site decision making.
The Evolution 6000 TIC from MSA is the most advanced and rugged thermal imaging camera ever built for use in the firefighting industry.
New and enhanced features include best in class image quality, light weight, laser pointer and range finder.
NFPA 1801-compliant model provides the industry's best mix of features to support the thermal imaging needs of every fire department, rescue organization, strike team, or HazMat crew.
Operation includes NFPA Basic Mode and additional features in NFPA Plus Mode. Temperature readout is offered in Fahrenheit or Celsius.

The Evolution 6000 Plus model features as standard, an integrated flashlight/laser pointer, an optional laser range finder/laser pointer (replaces flashlight if selected), a compass, a 2x/4x zoom, 6 color palettes and a transmitter option.
Specifications
Detector Size:

320 x 240 (76,800 pixels)

Thermal Sensitivity (NETD): 0.04° C
Temperature Measuring Range: -40 to +600° C
NFPA Compliance:

NFPA 1801, 2013 Edition

Class Rating:

ANSI/UL 12.12.01 (Class I, Div. 2, Groups C and D)

Accuracy: na
Lens Size: 48 x 37°
Screen Size: 3.5" backlit LCD
Geometric Resolution: na
Weight: 1.2 kgs
Battery Life: up to 4 hours
Warranty: 1 Year
MSA Safety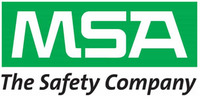 MSA instruments are widely used in the the Oil and Gas industries through out New Zealand.
MSA (known as "The Safety Company") is a precision technology manufacturer and supplier, with the focus on making the highest quality equipment so that people can work anywhere in the world in the safest possible environment.
Safety is the mission of MSA and they invest more in safety research and technology than any other company in this sector. MSA is aware that the safety products play a crucial role for people all over the world.
MSA's core products include portable single and multi gas detection, flame and fixed gas detection systems, self-contained breathing apparatus, industrial head protection products, fire and rescue helmets, PPE and fall protection devices.